27th Mount Dora Spring Festival   March 16 & 17, 2024 9am-5pm
On the streets of historic downtown Mount Dora, FL.  230 W. 4th Ave Mount Dora, FL 32757
Ranked in the TOP 10 by Sunshine Artist Magazine in 2022 in their annual ranking of the Best 200 Classic/Contemporary Craft Festivals in America.
The historic downtown streets of Mount Dora, FL come alive with 250 hand chosen exhibitors who showcase their unique talent to more than 50,000 visitors annually on the 3rd weekend of March. This is an outdoor event. Rain or Shine.  It is free to the public and features wine tasting, beer, cocktails and food vendors.  Buskers can play at corners with permission. There is no line up of live music at this event. www.MountDoraSpringShow.com
You MUST be the creator of the items in your booth. Retail, Buy-Sell vendors are NOT permitted.
HOW exhibitors are chosen: This is a quasi juried event. Time of application has no bearing on acceptance. On the deadline date, applications are closed and all files are categorized, reviewed and scored. The highest scoring exhibitors in each category are invited to participate. Everyone else in that category is placed on the wait list. 
The more UNIQUE your product is, the better chance you have of being accepted into this event.
2024 Fees:
Booth fees for the 2-day event include the Base fee + tax + $25 admin fee. The booth fee is not payable until/unless your file has been Approved and you have been notified by email. Payment is a commitment to participate and booth fees are non-refundable:
Base Fee:
$250 single/$475 double for hand craft exhibitors and artists representing their OWN work. Cottage food industry vendors selling packaged goods to go may apply at this level.
Add on fees:
Premium location requests on 4th Ave or Donnelly St
"Corner" (L or R open) based on availability. Requests are not guaranteed. +$75 each
Electric +$75
$1000 single Business/Lead generating/Branding community partners. $5000 Event sponsor 10 x 10 space, logo on TV ads, posters & social media mentions
Food Vendors: Carts w/out tent $175 / 10 x 10 tent $300 / 15'- 25' $500 / 28'+ $900 Add Electric +$75
Registration is NOT a GUARANTEE of ACCEPTANCE. It is the sole right of WTDI, INC to allow or deny participation in this event.
DEADLINE to apply is Jan 31, 2023. If you apply after Jan 31 you will be automatically placed on the Wait List and will be notified by email if space becomes available up to the weekend of the event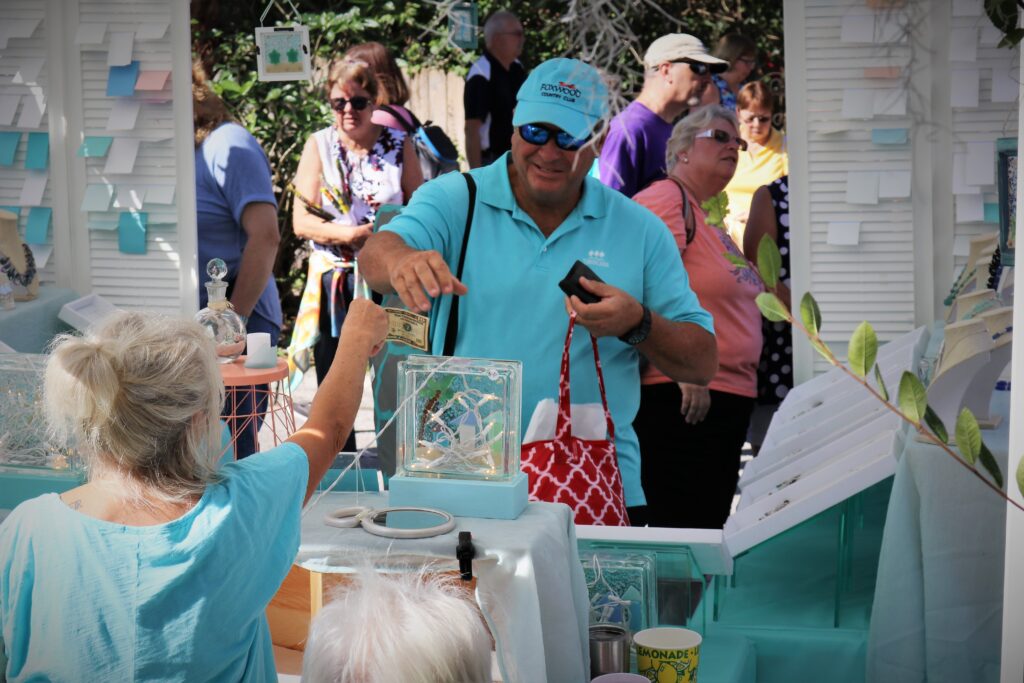 TERMS & CONDITIONS
An accepted application payment is a commitment to participate in the event and to follow all rules here.
Rules
Artist must exhibit and be present during complete show from the first day Saturday at 9:00 a.m. through the second day Sunday at 5:00 p.m. No early breakdowns!
All work must be original. Artist shall only exhibit works typified by their submitted images. Only the works of the accepted artist may be sold or displayed unless reviewed and approved by the event committee.
Each artist is responsible for collecting and reporting their own sales tax at the event.
Exhibit Space measures 10'x10'. Work must be contained within the assigned space. You provide your own tent, table and chairs.
Tents must be weighted to sustain up to 40MPH gusts and substantial rain. Stakes are not allowed. Tents must be white.
Vehicles will NOT be permitted in the event area after 8:30 a.m. on Saturday and Sunday mornings.
Pets are allowed but discouraged.
Generators are not allowed.
Site security is provided but we cannot guarantee against theft or damage of items at the event. Insurance is not required but recommended.
CANCELLATION POLICY: The event is RAIN OR SHINE. NO Refunds will be made for cancellations by the exhibitor within 30days of the event or for removal during the event due to violation of rules. Refunds will only be issued to requests in writing if outside of the 30 day refund request period.
Penalties for failure to abide by these terms & conditions include immediate removal of any items in violation of these terms & conditions, possible ejection from this year's event and suspension from exhibiting in future fairs.
RELEASE AGREEMENT
I do hereby release and hold harmless Visit Mount Dora, Inc. and the City of Mount Dora
of and from any and all manner of actions, suits, damages whatsoever arising from any loss or damage to my property or anyone's properties in my possession or supervision. I also warrant that the work submitted for jurying and the work to be exhibited are the same and were produced solely by me unless specified in my application and approved. A completed application is a commitment to show. No refunds will be made for cancellation within 30 days of the event. The Event Committee reserves the right to make final interpretations of all rules, terms & conditions.
The Mount Dora Spring Festival of Arts and Crafts is coordinated by nationally ranked organizers Janet Gamache and Brian Young with WTDI, LLC.  To find information and application links to their other available events, go to www.FestivalswithJanet.com